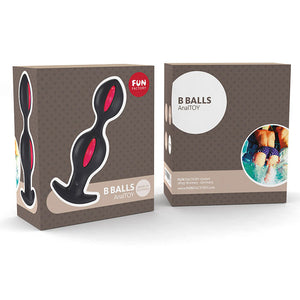 Fun Factory B Ball Duo two weighted balls
—
one inside each round chamber
—
let you enjoy bouncing and rolling sensations unlike what any other butt plug has to offer!
Unisex: perfect for any body
Slim base fits snugly between your cheeks
Designed and handcrafted in Germany  
Your movement controls the motion of the balls: when you're bouncing up and down, so are they. When you're rocking back and forth, they're rolling with your motion. (You can see some obvious applications for this, right? Our favorites include spiced-up spanking and holding a vibrator against the base.) Whether you're looking to add some anal training to partner sex, make solo play extra special, or just walk around with a little secret, B BALLS DUO are dynamic, discreet, and completely unique. 
A tapered tip makes B BALLS DUO easy to insert, and the completely non-porous material makes them simple to clean and even safe to share