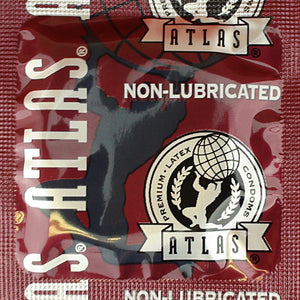 Atlas Non-Lubricated condoms are the best non-lubricated condoms for those who experience allergic reactions from standard lubrication, or prefer to use their own added lubrication.
Non-lubricated condoms also have various uses outside of the bedroom. If you wish to waterproof valuable recording equipment, or if you're a healthcare educator who needs a no-mess condom for a demonstrator, then Atlas Non-Lubricated Condoms are the perfect fit. Available in a variety of quantities to suite the needs of an average user, or a business professional who needs bulk cases.
Non-lubricated, dry condoms. Straight-shaped with a reservoir tip. Natural colored.  Ideal for sexual health demonstrations, those who experience lubrication allergies, or those who wish to use their lubrication of choice.