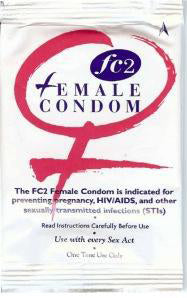 The FC2 female condom is a soft, strong and transparent sheath that is 17 centimetres long, about 6.5 inches. It has an inner and an outer ring that hold it in place during sex. It is easy to insert into the vagina. FC2 has a perfect fit. It lines the walls of the vagina, allowing the penis to move freely inside the condom during sex, the silicone-based lubricant giving a natural sensation. Both men and women enjoy sex with the FC2 female condom.
The material is smooth and soft.
It feels natural because it quickly warms up to body temperature.
The female condom isn't tight around the penis and gives a natural sensation.
FC2 can be inserted either a few hours or just before sex.
FC2 can be used by people who are allergic to latex. It is made of a synthetic material called nitrile.
You don't need to see a doctor before you start using female condoms. FC2 doesn't affect your body and it doesn't contain hormones.