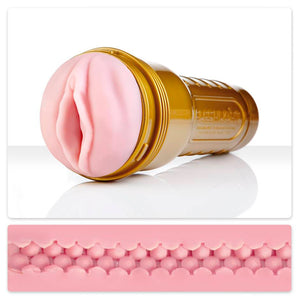 Fleshlight Pink Lady Stamina increase bedroom stamina and train yourself to last longer with the hyper-realistic Pink Lady STU Fleshlight. Tighter than the original Fleshlight with stimulating textures, the unit offers you pleasure while enabling you to become a better lover.

The Pink Lady's tightly ribbed inner canal offers incredibly lifelike stimulation that mimics the sensation of intercourse. Improve your stamina and technique as you play and be rewarded with more explosive climaxes and a more satisfied lover.
Use with plenty of water-based lubricant to enjoy your Fleshlight at its best.
Realistic stamina training toy for men from Fleshlight
Lifelike vagina entrance adds to the real feel experience
Tight, ribbed inner canal for intense stimulation
Sturdy Fleshlight case for discreet storage